Hi guys, excuse my English, I have used Google Translate to try to write so that my message can be perfectly delivered, and in this way I can solve a problem I have with an HDD.
 I am writing to you from Barcelona, ​​Spain.
I will summarize my problem: I transferred an ic bios (firmware) from one pcb to another pcb and the pc still doesn't recognize the disk.
If you read the details of my problem, maybe you can help me solve it. I will detail it step by step
After reading many pages about recovering data from an hdd that is not recognized by the pc, by transferring the firmware (ic bios) from the old pcb to a new and identical pcb, I decided to do it and try to recover my data . Firstly, the disc before or after the firmware change does not make noises such as: Grinding, Buzzing, Failure, Crash, or Weird Sounds. The disc makes the same normal sound as when it was recognized by my pc.
I used the disk in a USB box, one day when turning on the PC I realized that the disk was not recognized, I tried several times connecting it directly to the PC, or in another usb box and it did not work either.
Some friend told me to remove the pcb from the hdd and check the circuits, and I noticed that there was a half burned and half loose diode:
Attachment:
I found in internet a pcb with the same characteristics and bought it to do the firmware transfer.
Attachment: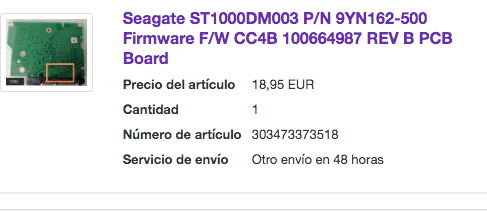 Captura de pantalla 2020-05-22 a las 18.46.07.png [ 50.36 KiB | Viewed 2781 times ]
My disk is a: Seagate ST1000DM003
P/N 9YN162-500
Firmware F/W CC4B
PCB Board: 100664987 REV B
capacity 1tb.
Attachment:
File comment: my hdd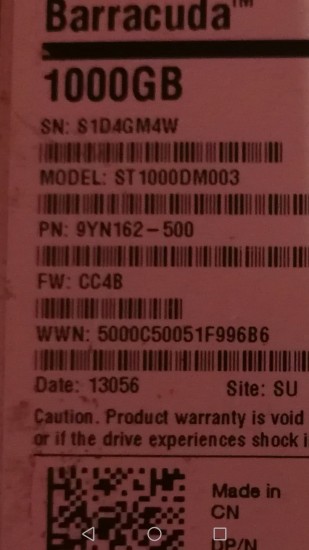 100082301_545250479498353_6423667170818916352_n.jpg [ 84.09 KiB | Viewed 2781 times ]
I am going to name the pcb of my hhd as Pcb A, and the one I bought on internet as Pcb B
(If you look closely you will notice that 3 diodes are missing on the pcb A (my hdd) this is because I read that if a diode burns or is damaged you can remove it and the disk will work again but no voltage protection, so i removed the diodes, but the pc did not recognize the hhd).
Attachment:
Attachment:
So I went to an electronic technician, I explained what he should solder, and he did it, the ic bios from Pcb B to Pcb A (€ 30)
(By the way, look at the red arrow in the image, that little drop of metal covering that hole? the other ic bios (firmware) did not have that metal drop, welding error or is it not a problem?)
Attachment:
The Ic bios (firmware) is: winbond 25Q40BWS05 (i think is S05 the last 3 characters)
In both pcb I found some differences of some circuits or chips (I don't know how to call them)
and I don't know if that's the problem.
Attachment:
Attachment:
Attachment:
After I realized that the change did not work, I went to another technician and he tested the pcb with a Multimeter (the diodes, etc.) and said that the board was apparently ok, ... but I don't know ...
so my questions:
metal drop is the problem?
PCB differences?
the ic bios (firmware) is damaged??
Thanks for the help you can give me, I will be waiting for some solution from all of you.