5. For 7200.12 ST3500413AS, we need to write JC49 firmware, not CC49 firmware for most 7200.12 disk.

There is common fault of this disk, it can easily be in fake ready status when there is firmware problem. In this case, it is in ready status, but cannot enter terminal mode with capacity shown as 3.8GB.
As shown in figure: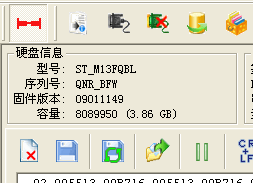 In this fake ready status, we can fix it by writing factory firmware JCXX.