January 28th, 2018, 16:16
@fzabkar I have a brand new Toshiba x300 6TB hard drive - identitcal to the ones which have failed.

The measurements were taken as you suggested; the Vcore/Vin/Vout voltages were taken on the new and old PCBs with them disconnected from the drive, connected to an external SATA enclosure. The switching circuit resistance measurements were taken off the drives; but the Preamp voltage test points were taken when connected to their respective drives (i.e. new PCB on new HDD, old/faulty PCB connected to old drive)
January 28th, 2018, 16:26
Perhaps I should explain what I am trying to do.
HDD from Inside: Hard Drive Main Parts:
http://hddscan.com/doc/HDD_from_inside.html
This is the preamp chip whose condition we are trying to establish: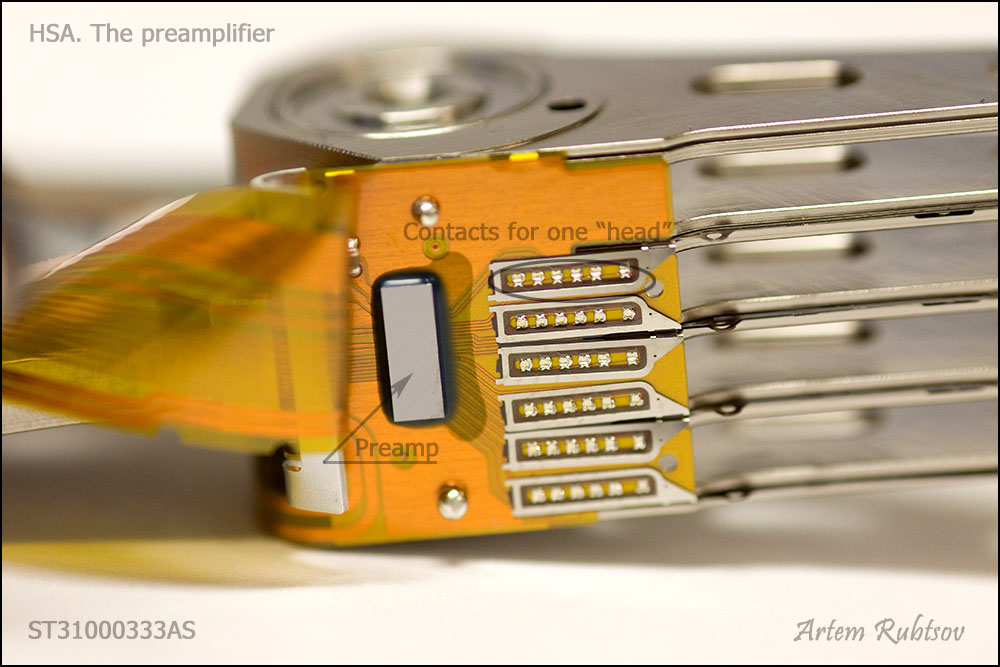 Here are internal diagrams of several preamp types:
Preamp Block Diagrams:
http://www.hddoracle.com/viewtopic.php?f=59&t=229
In the following example you can see two supply voltages, VCC (+5V) and VEE (-5V).
http://www.hddoracle.com/download/file.php?id=222&mode=view
We are trying to determine the resistance between ground and each of the VCC and VEE supply rails. Ideally we would compare the preamps in your bad drives with a known good preamp. We take one set of measurements with the PCB off the drive. This gives us the resistances of the PCB itself. Then we repeat these measurements with the PCB on the drive (that's why we need the test points on the bottom of the PCB). This then gives us the combined resistances of the PCB and the preamp.
If our measurements do not find any evidence that the preamp is damaged, then we can assume that it is worth replacing or repairing the PCB. We then need to measure all the regulator voltages on a known good PCB for comparison purposes. Ideally we would also need to replace IC17. However, because it is a switch, we need to determine whether the drive can function normally if we bypass this switch with a jumper wire. Here's hoping.
January 28th, 2018, 16:31
bigi wrote:... the Preamp voltage test points were taken when connected to their respective drives (i.e. new PCB on new HDD, old/faulty PCB connected to old drive)
So does this mean that the +5Vout test point measures 90 ohms to ground when the PCB is off the drive and also when it is on the drive? If so, could you repeat the test with the good PCB on the bad drive?
January 28th, 2018, 16:44
I didn't measure the underside voltage test points when the PCB was off the drives, only when it was on their respective drives - sorry! The component side measurements were all taken when off the drive.

I will retake some measurements now using the +5V test points highlighted on the underside now and get back to you
January 28th, 2018, 16:54
Just for completeness, there are 4 serial flash memory chips on your PCB (IC9 - IC12). The MCU uses two pins to select 1 of 4 at any one time.
The order of selection is IC10, IC9, IC11, IC12. I have no idea if all 4 chips need to be transferred to a donor PCB. Perhaps IC10 is sufficient?
Attachments

74LC138_pinout.gif (9.21 KiB) Viewed 2827 times
January 28th, 2018, 17:32
ok, i've just taken some measures on the underside voltage test points, with the old and new pcb off drive, on the old drive and on a new working drive for completeness.

Old PCB, off drive - +5v IC17: 93.7R, +5v unknown: 78.2k
Old PCB, on old drive - +5v IC17: 96.7R, +5v unknown: 78.5k
Old PCB, on new drive - +5v IC17: 96.8R, +5v unknown: 78.5k

New PCB, off drive - +5v IC17: 43.6k, +5v unknown: 74.4k
New PCB, on old drive - +5v IC17: 43.6k, +5v unknown: 74.5k
New PCB, on new drive - +5v IC17: 43.7k, +5v unknown: 74.6k

The final values were fluctuating very slightly, which may explain the marginal differences?
January 28th, 2018, 17:47
"+5v unknown" is probably the -5V supply.

Your measurements would suggest that the preamp probably survived. Instead the damage appears to be confined to the PCB.

Are you able to remove IC17? It may seem brutal, but you could carefully snip it out of circuit with side cutters. Just snip tiny bits at a time. Afterwards we can take additional measurements.

Otherwise, if you choose to replace the PCB, you will need to transfer one or more of the serial flash memory ICs from patient to donor. You must not damage them, though. They contain information which is unique to your drive. hddparts.com may be able to do the transfer for you.
January 28th, 2018, 17:58
Well that could be the first bit of good news i've heard about this

I will try removing IC17 from the damaged drive and see where i get on - after its removed what measurements will you require?
I am based in the UK so I am reluctant to ship anything abroad if possible. Additionally, I don't have donor PCBs so would prefer to avoid having to transfer flash ICS if i can. even if i can just get the drives running long enough to pull the data off that would be perfect.
January 28th, 2018, 18:05
ok, i've removed IC17 now, was easy enough with some miniature side cutters. should I take the same measurements again now?
January 28th, 2018, 18:08
With the PCB off the drive, and after removing IC17, measure the resistance between +5Vout and ground. Hopefully you will now see 43.6K. Then measure the resistances between ground and each of Vcore, V2 and V1 (on both PCBs). This will tell us if the surge got past the regulators and out to their loads.
January 28th, 2018, 18:31
Also compare the resistances between ground and +5V at the SATA connector on both PCBs. This will tell us if the motor controller IC was damaged.
January 28th, 2018, 19:44
Hmm, a bit of a mixed bag of results.

+5v out to GND: 82.7R
Vcore - Old PCB: 87.2R, New PCB: 102.5R
V1 - Old PCB: 2.59k, New PCB: 2.66k
V2 - Old PCB: 4.5R, New PCB: 6.54k

at SATA power connector, both old and new PCB report .349k with multimeter leads reversed (i.e red to gnd, black to +5v). with correct orientation, the value constantly "bounces" up and down, too quickly for the multimeter auto scaling to lock in! from the meter i can see it's going up and down. interestingly, the damaged PCB bounces much quicker than the good one - UNTIL I put a jumper across the 3amp blown fuse; at which point the bouncing is at the same speed as the good PCB.
January 28th, 2018, 20:50
There is still a problem at 5Vout. Is the same 82.7R reading present in the Vcore circuit at the point I have labelled as "+5Vout (from IC17)"? If so, then I suspect that IC7 (BD91364) has also failed.
V2 is shorted to ground (4.5 ohms). What voltages do you measure at V2 and V1 on the good PCB? I'm concerned that V2 may supply the power for the serial flash memories, in which case one or more of them may be damaged. If so, then even professional data recovery may prove impossible.

What resistance do you measure between the Vcc pin of IC10 and each of V1 and V2? Note that all the Vcc pins are connected together, so you need only measure one of them.
January 28th, 2018, 21:58
Values are somewhat worrying

V1 > Vcc - 1.5k
V2 > Vcc - 0R

on a good board, V1 is 6.5K, V2 is 0R

Incidentally, I have inspected the other x300 6TB hard drive PCBs that have failed. they exhibit the same problems, but without any damage to IC17, resistance measurements are very similar; the exception being resitance for v2 > GND; other failed drives without damaged IC17 are registering 1.5R

On the good PCB, voltages are as follows

v1 - 1.7v
v2 - 2.5v
January 28th, 2018, 22:28
Sorry, but the board is a write-off.

The surge damaged the motor controller (IC2), passed through inductor L600, and then clobbered one or more components on the V2 supply (2.5V).
V1 (1.7V) powers the SDRAM (IC3), while V2 powers IC8 - IC12.
Vcore powers the MCU only. The MCU also requires a Vio supply, either V1 or V2 or both. Therefore it is possible that the MCU is the source of the short on V2, in which case there is still hope for the flash memories.
In short, you could try to dump the flash memories and establish whether they are OK. Then you could transfer them, or their contents, to a donor PCB.
The other boards (with 1.5R on V2) are facing the same problem with the flash memories. That's really tough luck.

What really hurts, though, is that, if Toshiba had used a 5V TVS diode for D702, then the simple fix would have been to remove this diode. That would have cost you nothing.
January 28th, 2018, 22:45
absolutely gutted

I did hope we might be getting somewhere with it, but sadly not. I tried the working bpard on one of the failed drives and it span up but obviously didnt recognise the drive. It does seem utterly ridiculous that Toshiba have made such a fundamental mistaje in their protection circuits on these drives, particularly considering how difficult they are to recover.
I have just spun up the WD drive after removing the TVS diode and short the 0R link and its running. although now i need to find a way to rsurrect a disk that was part of a windows spanned volume!
How would i go about trying to dump the flash memory? Is there any type of JTAG connection or would it involve removing the flash directly?
January 29th, 2018, 1:29
You won't be able to read the flash memories in-circuit (because their supply rail is missing). You need to remove them and read them in an external programmer. Make sure the programmer is set for a +2.5V supply voltage. You must not damage the chips.
Alternatively, you could cut through the Vcc traces adjacent to pins 7 and 8 of each IC (with a scalpel?) and then retest the resistance betweens pins 8 and 4 (Vcc & Gnd) and 7 & 4 (Hold & Gnd). This will enable you to confirm which, if any, of these chips is shorted. Then you may be able to read the chips in-circuit with an SOIC clip and external progammer.
SOIC 8 Clip :
http://www.hddoracle.com/viewtopic.php?f=110&t=85
January 29th, 2018, 15:12
This would be my plan.
Cut the power traces to each of the flash memories.
Read the non-shorted flash memories in-circuit.
Upload the dumps to
http://files.hddguru.com
Compare the dumps between drives.
If any dumps are identical, then these will contain no unique (aka "adaptive") data.
Only those dumps which contain unique data will need to be transferred to the donor, assuming the donor PCB is identical in every other respect.