Joined: September 3rd, 2018, 15:11
Posts: 1
Location: United States
I don't know what happened because the last time I used it, it was working fine. Now, it shows up on My Computer but after a while and when I try to access it I get the following message:

E:\ is not accessible
The request could not be performed because of an I/O device error

Disk Management says that it's healthy. I tried various methods already but no good. Thru Windows File Explorer - got the same message, using Linux - go a message that it can't access it, and data recover software didn't work (it was extremely slow).

Does anyone have any idea what caused this? Any chance that I can fix it or is my only option to take it to a data recovery service?
Attachments:
File comment: Disk Management Screenshot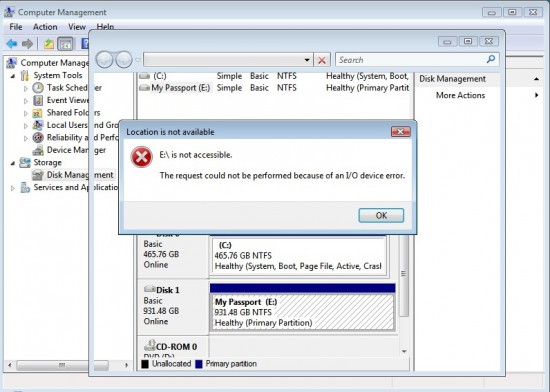 Screenshot.jpg [ 109.96 KiB | Viewed 1163 times ]