Hello there,

I have a DMG file of the size of 15 GB, where there is 13.97 data. I accidentally deleted and before deleting it, this file was encrypted with the password, which I still have.
Somehow I managed to recover the DMG file using 'stellar recovery' software.

However, I'm no longer able to open it in my mac, its gives the error like "No mountable file system".
I tried various recovery tool like DiskDrill, PhotoRec, TestDisk etc but nothing works.

Recently I got to know about UFS explorer professional recover and tried that too, but couldn't find anything.
when I see the HEX value, there is some data in it.

Can anyone tell if it still possible to recover data from this DMG file?

I've attached the images from UFS's HEX value tab below.
Attachments:
File comment: HEX value from UFS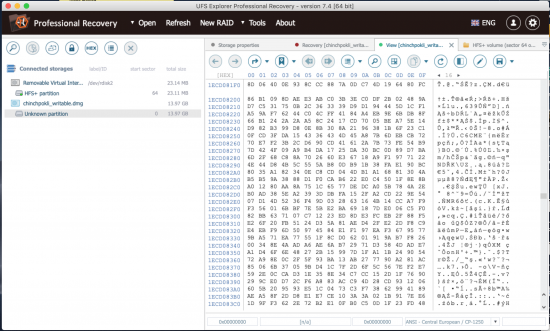 Screenshot 2019-02-12 at 6.07.37 PM.png [ 1.11 MiB | Viewed 1542 times ]
File comment: HEX value from UFS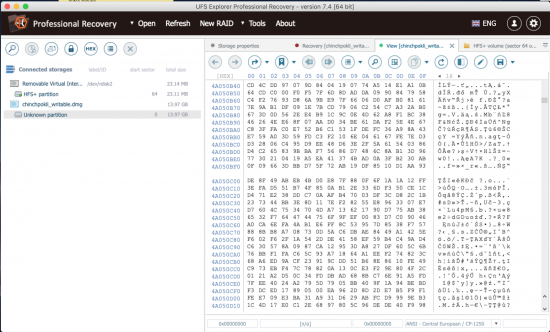 Screenshot 2019-02-12 at 6.07.22 PM.png [ 1.03 MiB | Viewed 1542 times ]
File comment: HEX value from UFS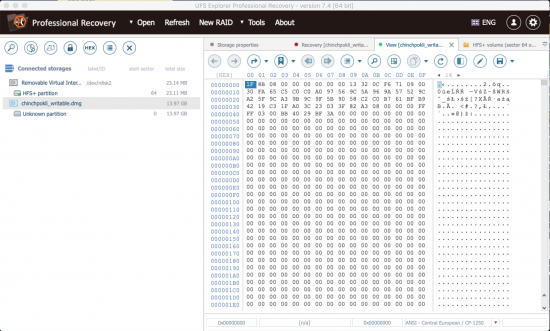 Screenshot 2019-02-12 at 6.06.58 PM.png [ 626.91 KiB | Viewed 1542 times ]