I have following problem: this is preamp of ST31000524AS
Chip is covered with something black... so there are no markers visible.
This cover looks like glass/ceramic, gives reflection like a mirror, is hard and I cant' remove it with a cutter. Many preamps are covered like that, but till now I have no need to remove it...
I tried with hot-air at 150 C, at ->>> 450 C and nothing happened with it... I heated it to 450 C and put it to cold water in hope it will break up, if it's a glass.... nothing happened.
I thought about hydrofluoric acid, as it dissolves glass, but first I havent' it now, and second may be there is a simpler method.
I'm sure some of you have an idea, how to remove this shit not breaking the chip completely

I dont' need working chip, I just want to identify it.
Attachment:
Attachment: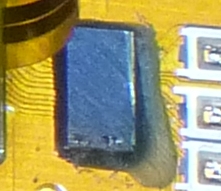 PREAMP_ST31000524AS_reflection.jpg [ 34.81 KiB | Viewed 2575 times ]