Full detail in this thread:
viewtopic.php?f=1&t=39711
Now, I'm facing a quandary.
I don't know if I should click "Insert the partition (Undelete)" and ignore the warning that

Or I should FIRST restore boot sector by clicking the "restore" button on the lower left corner: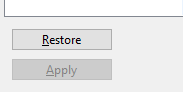 and Then undelete my partition?
What should I do? Please help!