Hi there!
I have a case:
Toshiba DT01ACA050, with MS1OA7R0 firmware.
The drive spins up normally, no any unusual sound. I hear it loads something, going to DRDY, but there is no ID. The NvRam looks good, the serial number , and head map in NvRam looks okay.
Unfortunatelly, i can not found any firmware resurces on internet, and firmware download sites.
I tried MS1OA750, and MS1OA7C0 resources with no luck.
Please if You have recourses for the same model with same firmware, post here!
Attachment: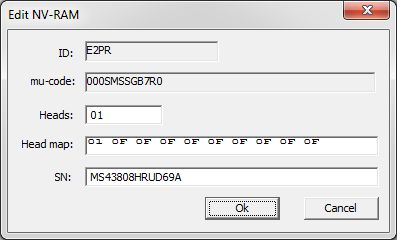 nvram.jpg [ 13.79 KiB | Viewed 2650 times ]