Hello everyone,
I have a similar problem to the one described in this thread by sloth:
viewtopic.php?f=10&t=27317
I'm also new to this forum and also found it on my search for help/knowledge/advice.
After taking some pictures over several weeks, I have put my SD card into a Canon Selphy CP910 photo printer to print out some shots. Since I have ejected the card, it is not readable/recognizable anymore. Neither my pc nor the camera or any other device even shows me, that there is a card inserted. It seems as if this printer has damaged the card. Recovery by software is thus not possible. I suspected (at least) the controller to be defect. The sd card is a Sony 64 GB SDXC UHS1 Class 10 (SF-64UX).
Attachment:
File comment: Sony 64 GB SDXC UHS1 Class 10 (SF-64UX) SD Card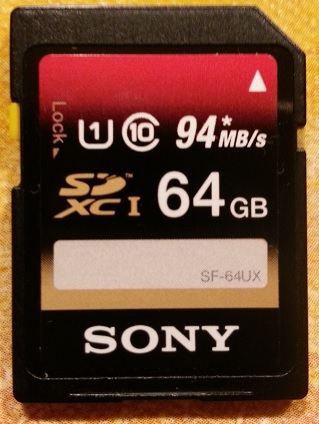 sony_sf-64ux.jpg [ 50.64 KiB | Viewed 5444 times ]
Next step was to send the card to a recovery company to get an analysis as well as a proposal for recovery (I don't have a picture of the monolith, because the card is still at the recovery company). They confirmed that the controller is defect and they could try to recover data for a price of 1000 EUR. They told me, that it is a monolithic sd card, which requires manual soldering under a microscope over 15 hours, which is the reason for this high costs. If they can't recover any data, I still have to pay 500 EUR.
It's really a pity that the pictures are lost (at least at the moment), because we had some really beautiful family shots with our children. But I don't have so much budget to spend for "some beautiful pictures". I don't want to dishonor the work they have to do to get the data back, but I found others to do this to a more affordable price. One told me, that he could recover the data, but he doesn't know the pinout for this specific monolith. If I can get it, he would recover the data.
So I searched back and forth in the internet, came over Russian and Chinese sites but had to realize, that I wasn't able to really find a specific pinout diagram. I even contacted Sony support, but they only talked about intellectual property and internal information. They do have a 5 year warranty on their cards, but if it fails, they only replace it by a new one. Dataloss is a problem of the customer. It seems to me, that there is no chance to get the pinout.
I even thought about buying a flash reader from Rusolut, Ace Lab or Soft Center. If I got it right, they provide pinout information with their products. Especially the Rusolut solution is quite impressive, but you'll need to do recoveries more often justify such an invest (e. g. Rusolut with 1699 EUR for their Kit). After one year, you are even "locked out" from their database if you don't spend another 499 EUR per year. I understand, that this price is probably good for the solution they provide and some of you use the kit they sell, but in my case, it is not affordable.
Finally, I'm hoping to get some advice here, how I could further proceed. Is there a chance to find anyone/any resource that provides the pinout information? To whom would you refer in my situation? Has anyone opened such card before? Thanks a lot in advance for your answers.
JJF