Quote:
The QY device is a 2.5V regulator. Its input voltage is 0V. Can you check whether the RAU, ODH, and MP5505 parts are also missing their input voltages?

Their Vin is at 5.0V but EN is low at 0V. For the ODH, enable is 0V as well and PVIN/AVIN are ~0.3V.
Quote:
One other thing to do would be to measure the resistance between ground and the outputs of each of the regulators. This will tell us if the flash controller or any of the NANDs are shorted. If any of these ICs are damaged, then there would be no point in continuing.

Good call, seems we're good. Only V1 measures about 50Ohms to ground, the others are much higher.
Quote:
Can you measure resistances Rx and Ry, and voltage Vy, in the MSP430 image?

Attachment: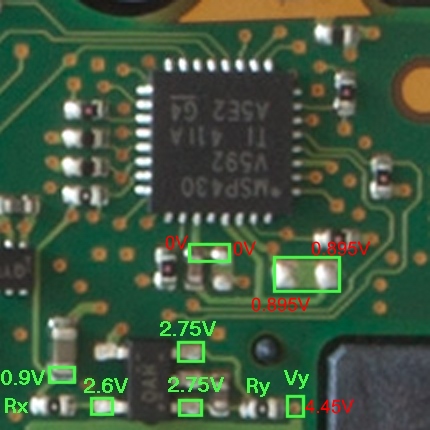 MSP430.jpg [ 80.63 KiB | Viewed 6485 times ]
Quote:
I suspect that Vy should be +5V. If so, then could you test the resistance between this point and the SATA +5V pins and the Drain pins (output side) of the power MOSFET?

Between Vy and +5V on SATA connector I measure about 1.5M Ohm. Between +5V on SATA connector and PMOS drains is 25.0 Ohm.
Quote:
It appears that pin #23 may be the MCU's supply pin, or could it be pins 27, 29 or 30? Are any of these pins shorted to ground?

Pin 23 is multiple k-Ohm to ground, can't get a stable reading. Pin 27,28 are 0 Ohm to ground, pin 29,30 are 5 Ohm to GND.
Quote:
Is the adjacent component also a 10 ohm resistor?

Which one? If you mean the one next to the 3.3V regulator (Rx in the pic), then yes.