HI all,
I have a Verbatim Store n GO 8gb flash stick that has an error in the partition tables. probably my own fault as I have been a bit demanding of it, having installed several different Linux distros to it as bootable using universal usb creator.(great tool!)
windows was not reading it as a device, but it does come up in disk management as 7.2Gb where I was unable to do anything to it.
Linux reads it as 4.1Kb cdrom when plugged in. Gparted read it as 7.2 gb and I can format partition but couldn`t make it active.
I have run bootice(free) and managed to activate the 7.2 partition. still missing some parts though.
I have run various tools in windows and Linux and was able to see lost/hidden partitions there is 8 of them.(there is 8 but the free version of minitool power data recovery will only let me see 5(disappointing, since they said the ONLY limitation is 1GB file recovery)).
Attachment:
File comment: picture of visible partitions.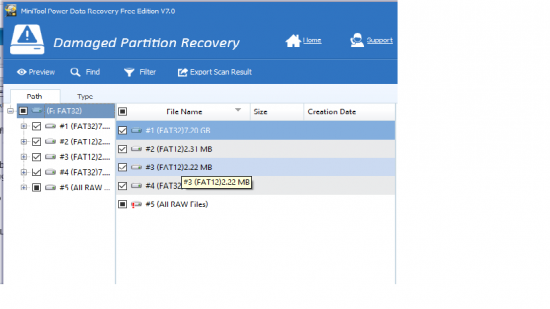 partition recovery.png [ 24.87 KiB | Viewed 2266 times ]
So I guess the real question is does anybody know of a preferably free tool to recover lost partitions with blatant disregard for the unnecessary/unneeded data?
Linux/windows/ISO anything really,
P.S....hmm I wonder if you can still make recovery disk on partition magic? Free version(8-10+ years ago) had every limitation you could think of but if you made a 'recovery disk' which was a 1.44Mb floppy it magically let you do anything!! I don't even own a floppy drive now let alone a disk that works to put in it!!
oh well might try it anyhow will let you know how it goes.