Joined: May 28th, 2016, 9:16
Posts: 151
Location: Karlsruhe / Germany
Hey,

I have here an Intenso SSD with the SM2246EN Controller. The drive got ready, when powering it up. But when I ID the drive, it got busy.

I fired the drive up in safe mode with pc3k and was able to upload the microcode. Then the drive ID'd. But I was not able to access any data. I got repeating patterns in the sector edit. So I rebuild the translator. But somehow it was not successful. I took a screenshot of the output. I still have no access to the "User Area". In the Memory Microchip Information I've got OK on each chip. What else can I try?
Attachments: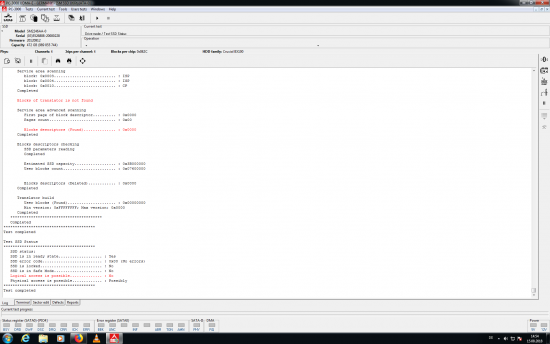 ssd.png [ 91.29 KiB | Viewed 2954 times ]