Yes I made progress, and in the process of writing it up properly, but also identifying which memory range on chip is for which game. I have mapped 19 of the games so far... it is time consuming.
The ROMs themselves are stored in these chip/s but do not store a whole ROM consecutively. for example, the ROM for the game "Golf" is stored on the chip as follows:
NOTES:
* The 16 Byte header that is common for NES ROMs is removed.
* There is no optional 128 Byte Title DATA at the end.
0x009D4000 - 0x009D7FFF (length 0x4000) [1 16k bank of Program Data] code for game
0x0090C000 - 0x0090DFFF (length 0x2000) [1 8k bank of Character DATA] sprites for game (16 Bytes each sprite)
here is what the 8k bank of sprites look like:
Attachment:

golf.chr.png [ 5.15 KiB | Viewed 3568 times ]
Here is a zoomed in section of the different sprites (sprites are stored out of order and multipl "tiles" can be used to make up a sprite in the game
Attachment: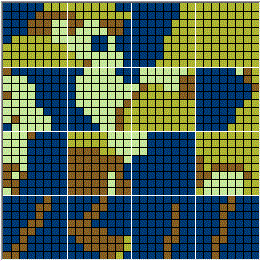 sprites.gif [ 21.57 KiB | Viewed 3568 times ]
There are a couple of strange things with these units I will document later.
The issue with these will be easy access to ROMs on the chip as regular legit Nintendo consoles of these re-released type have a usb port for easy switching of the roms with a homebrew utility. These are different.