fzabkar wrote:
I don't see any eMMC pins in the PS2251-33 pinout diagram.
See pages 5 and 7:
https://datasheet.octopart.com/MTFC2GMVEA-0M-WT-Micron-datasheet-14049759.pdf
Do you have a photo of the PCB?
There wouldn't be, the controller uses NAND. The controller pins would go to the chips other raw NAND pads, not typically shown in the datasheet.
Tim, just find another 2251-68-5 drive with a TSOP. then work backwards on that drive to find pinout of controller. These drives are very common in verbatim, Toshiba, emtec etc.
case in point, I bought my weekly test drives yesterday and out of 4, all were Phison, and one was a 68-5.
Attachment:
Attachment: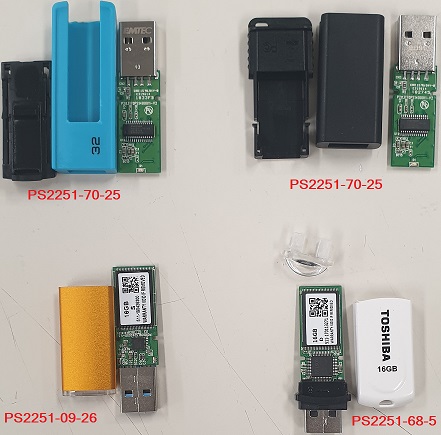 new2.jpg [ 77.28 KiB | Viewed 7334 times ]
I don't have a DMM here with me, and tonight and the weekend is nuts but I could trace one for you by Monday if it helps
edit,
you may get some hints on which pads, (but not the order) by looking at the pics from bolo and their adapters!