The most powerful and easy-to-use PC-3000 Portable III is now available for purchase!
Are you ready to be one of the first?
ACE Lab is proud to present the result of 5 years of research and development.
Meet the all-new approach to recovering data and evidence from modern storage media: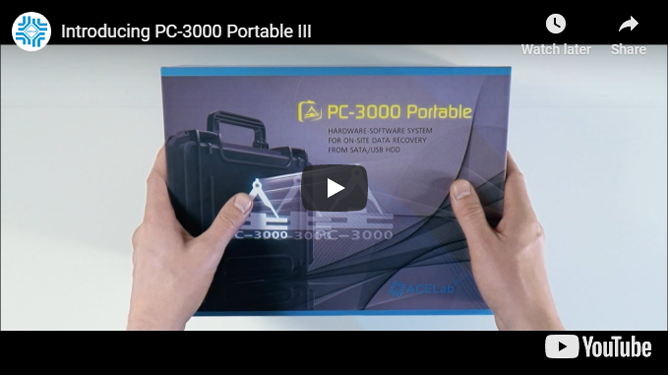 INCREDIBLY EFFICIENT AND COVENIENT TOOL FOR ON-SITE DATA RECOVERY:
►
4 diagnostic ports to deal with 3 drives at the same time. Max speed of SATA ports: up to 360 MB/s.
►
The world's only solution to extract data from damaged NVMe SSDs in the Techno Mode with a special universal M.2 PCIe NVMe SSD/M.2 SATA SSD adapter included in the delivery kit.
►
Faster and easier work with USB HDD/SSD/Flash drives. Save time during data recovery from partially damaged USB Hard Disk Drives and logically damaged SSD/USB Flash drives.
►
With a completely new Report Generation function, you can save/print the report about the condition of a drive to show to your clients or use it for further investigation.
3 OPERATING MODES TO RECOVER DATA AND EVIDENCE WITH THE MAXIMUM SUCCESS RATES
Brand-new Standalone Mode
allows you to deal with storage media devices without a host computer!
Easily diagnose the HDD's condition and create data images from USB Flash, SATA/PATA/USB HDD, NVMe/SATA/USB SSD
right at your customers' premises! All the information is displayed in the built-in 4" Screen and controlled with the 8-button keyboard.
Enhanced Easy Mode
makes the data recovery process easier than ever! With the PC-3000 Portable III,
you can use just its Easy Mode to recover data from HDDs that don't have serious issues with the internal firmware or hardware part
without delving into the variety of deep PC-3000 functions. Even beginners in data recovery will be able to solve their first tasks quickly and efficiently!
High-end Full-Featured Mode
helps you to recover as many cases of different complexity as possible.
It includes top features that you may already know from the other PC-3000 flagship solutions: PC-3000 Express and PC-3000 UDMA.
This mode will be appreciated by those engineers who prefer to fully control the process and would like to be a pro in data recovery.
All the detailed information on the operating modes, other technical features, updates, and the delivery kit is here:
https://www.acelab.eu.com/pc-3000-porta ... ystems.php

If you have any questions or would like to get the PC-3000 Portable III now, feel free to contact us at sales@acelab.eu.com

_________________
Best regards
ACE Lab Team
ts.acelaboratory.com / blog.acelaboratory.com