Other comments:
1.
ONFI support
.. Just because a company like SanDisk is heavily involved with ONFI, doesn't mean all their chips are 100% support. SanDisk do some weird-ass things sometimes.
2.
Refurbished chips
: Micron and Spectek. It has been reported that Spectek chips are "The ones that john west rejects" "john west" in this case is Micron. The chips from Spectek are often rebadged/ refurbished Micron chips. Some even have the Spectek clearly lasered over the micron Logo. The chips may be a Micron 2 bank 16GB chip with a faulty bank, and rebadged as a single bank Spectek 8GB.
SanDisk sell a lot of chips with faults as well, and you can tell these as there is 2 rows of RMRMRM over the Brand.
They have been remanufactured to either map out the bad blocks or lower capacity. They should have same ID but might have 1/2 the banks.
Attachment: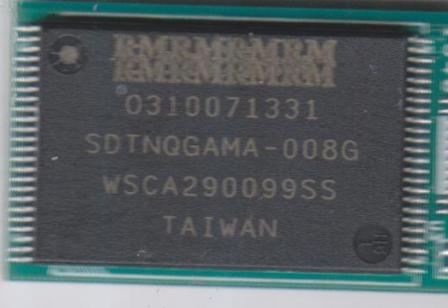 refurb-Sandisk.jpg [ 17.3 KiB | Viewed 25753 times ]
Toshiba seems to sell to Phison, and they are usually labelled with short numbers starting with TF or TT, where the actual Toshiba part would start with TC58NV. Again the bank numbers can be different
It is important to be aware of refurb chips because if you are looking at a datasheet, all bets are off if it is refurb.
Pirate chips
: these chips usually "look" dodgy.. they can be thinner, have broken bits of the package around where the dies meet, have printed labels instead of laser markings that denote faked chips. These normally have a correct ID but the quality is atrocious and many bit errors or straight out failure is probable.
The NAND industry is quite interesting. Almost NOTHING goes to waste. If a chip is not dead, it will be labelled and configured at whatever capacity they can get from it. Sometimes even 512MB cards are still made from 32GB chips that are all but stuffed. if you open as many devices as I do, you see some strange and wonderful things such as MicroSD cards in holder or soldered to PCB inside of Flash Disks and SD Cards, eMMC chips soldered to use just the NAND, totally fake things like 1GB NAND chips inside "64GB" drives.
I guess the whole point to this post is that NAND is a little different to most chips.. uC's, logic chips etc where specifications are everything. sometimes you can reliably rely on documentation such as 29F chips from intel/Micron, and other times it is a crapshoot. But it is ALWAYS fun