Not bad, I think you have shown the way most of us played around with the structures and data in different ways to try and make sense of it. I can really relate to the "having a blast!" comment, as yes it is such a great tool.
I haven't used VNR for a long time, so this is just my opinion, and much might have changed, or I could be plain wrong!
I think you are supposed to break the structure up a little differently, though I don't know if it matters in the end. The VNR book 2, page 46, says:
- The data area structure is a child of the Page
- The Spare area and ECC structures are children of the Page
- The LBN, Header and other structures are children of Spare Area and set with the aim of pointing parameters to the Markers Table for block arrangement, filtration and sorting for further logical image creation.
eg:
Attachment:
and
Attachment: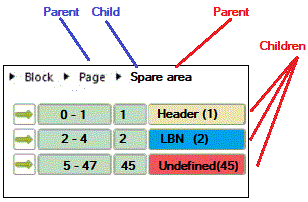 VNR-SA2.GIF [ 11.74 KiB | Viewed 3078 times ]
I don't think the 22 bytes in the SA are SA ECC, But I could be wrong.
If you do not separate the header and block numbers, you will have trouble later when trying to construct markers.
a "Marker" is just part of the spare area, and could be a Header, LBN, LPN etc.
I *think* that in the structure where a child is named "as" such as data area as data area... this "as data area" is helping VNR when it does auto analysing and is built it. Such as when applying XOR, it knows to look at stuff marked "as Data Area". And how the ECC finder knew to what bytes to look at because they are set "as ECC".
Also, the only "empty" part is the 22 bytes at the end. these can be called empty because there is no purpose. You called the 1 byte after (what you are currently identifying as) the LBN empty, but in fact it is FF. The SA is made up of bytes and they all mostly mean something. You may, or may not need to include them in the project to ultimately get a valid image. You have to start looking at it as a group of bytes...
SA can consist of things like:
header, Logical Block Number, Logical Page Number, counters for amount of block writes, version numbers of pages/blocks and other weird and wonderful things.
I have found it useful to read the VNR books over again at different stages, because you pickup some extra things after learning a little more. For example, just tonight I noticed a few things I had missed that now makes sense.
Looking forward to Episode 3..