hhddrec wrote:
fzabkar wrote:
Is it possible that SanDisk's Translate Sector (87h) ATA command has been retained in their SSD models?

If so, then this may provide a way to test the translator.
and how we can test?
SanDisk CompactFlash Memory Card OEM Product Manual:
http://pdfstream.manualsonline.com/2/23ba20e9-6aaf-4f79-a7d9-f78379489686.pdf
There is a Translate Sector (87h) command on page 5-23:
Quote:
When this command is issued, the controller responds with a 512-byte buffer of information on the desired cylinder, head and sector with the actual Logical Address.

Quote:
Table 5-33 represents the information in the buffer. This command is unique to SanDisk CompactFlash Memory cards.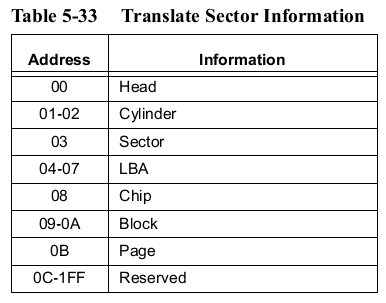 _________________
A backup a day keeps DR away.