In current HDDs the motor controller is a "combo" chip that controls the spindle, voice coil and power supplies. Therefore one might expect this chip to heat up when the spindle is seized or if there is a problem with the VCM. That said, in your case there are 4 discrete MOSFET drivers (Si
9956
DY), so my observation would probably not apply to your drive.
The Cirrus Logic 61136-1 chip would be either the spindle motor controller or VCM controller, or both. I don't know if the S-MOS chip (61137-001) is also a controller of some kind. If I were attacking this problem, I would trace the circuit involving those 4 chips and the HDA connector, and I would determine which pins of the Cirrus Logic chip drive the gates of the MOSFETs. The functions of the diodes might be important as well, especially if one of them is leaky.
Si9956DY, Siliconix, Dual N-Channel MOSFET, 20V, 3.5A:
http://www.vishay.com/docs/70140/70140.pdf
Attachment: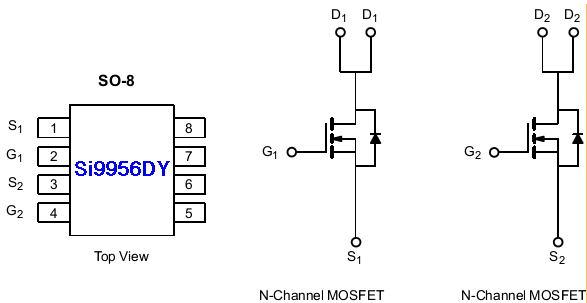 Si9956DY_pinout.gif [ 8.18 KiB | Viewed 7300 times ]
As for the terminal, have you matched the TTL voltage levels? Measure the voltages at the drive's Tx/Rx pins and those of your adapter. According to the following URL, your drive should identify itself as a Sahara.
Conner Families:
http://www.9to5computer.com/9-5/Hard%20Drive%20Inf/conner.htm
_________________
A backup a day keeps DR away.